Sapphire Blue
by
Kerstin Gier
Rating: ★★★★
Two weeks ago, I went on a road trip with my family. If you've never been on a road trip you should know that this involves a lot of sitting in the car while getting from one location to another. Of course, I had to pack books to keep myself busy. Actually, I probably spent more time trying to figure out which books I wanted to take than what clothes I needed to pack. Sapphire Blue was one of two that ultimately came on this trip with me.
I read the first book,
Ruby Red
, earlier in the year after hearing about it through multiple BookTube videos. It seemed like everyone was reading this series and loving it. So when I saw it at Half-Price Books, I made an impulse purchase and got to reading ASAP. To summarize, I enjoyed that read and was excited to continue the series.
Once I got into Sapphire Blue, the pages went by fast. Just like the first installment, this book was a quick read. Things were happening, the story was moving and I was always interested.
The book follows a girl named Gwyn who discovers that she has the time traveling gene (which runs in the family) that everyone thought her cousin would get. Now Gwyn is brought into this world in which she seems to play a big part in completing a mission that she doesn't really know anything about. While her cousin has been trained for this role her entire life, Gwyn is totally clueless. Her companion in her time traveling ventures is a boy named Gideon who is essentially Gwyn's counterpart, in the bigger scheme of things.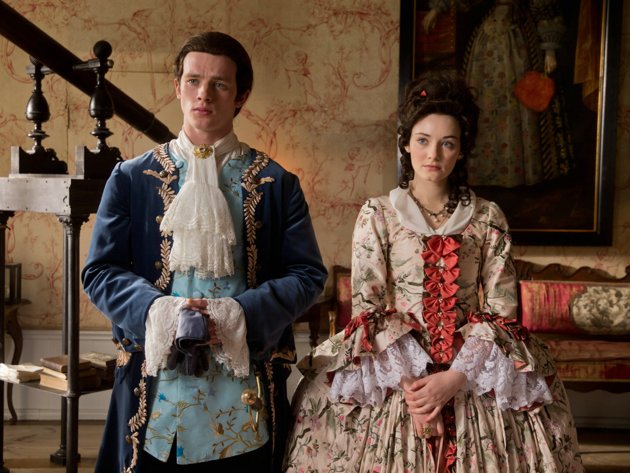 Gideon and Gwyn from the movie. (Source)
Gwyn is the core of this book (as she was in the first one) and everything else is molded around her. Even the romance plays a supporting role in the story which felt very refreshing because so many of the books I read make the romance a companion to the main story line. It ends up being that the love story in the novel is just as big as the rest of the story. Not that I'm complaining, because I love to read these books, but it is nice to read something a little different every now and then. Surprisingly, I didn't even find myself wanting Gideon to be in every scene. Gwyn could hold her own in every single scene. She's independent, funny and smart. Who needs Gideon anyway?
In Sapphire Blue, Gwyn is trying to find answers to a multitude of questions. Who is the Count? What is secret of the time travelers? What does the prophecy of the Ruby (AKA Gwyn) mean? Why did Paul and Lucy steal the chronograph? Why can she see ghosts? What happens when the time travelers' circle is complete? Just to name a few. While she makes some developments on these fronts, there is still a lot that is unknown. She begins to feel more lost and is no longer sure who she should trust if anyone at all. As she is still kept in the dark about everything, she decides to use her time traveling ventures to figure out some answers on her own and it seems like the more she finds out the more questions that come up. Gwyn makes a new friend, named Xemerius, who is the ghost of a gargoyle. Xemerius proves to be a great asset while also providing hilarious commentary.
By the end of the book, I was left confused but in the best way possible. Everything that I thought was true is now in question. With the Count, with Gideon, with Lucy and Paul. I have no idea what is what anymore... and so I need to get my hands on
Emerald Green
. Fast.
Sapphire Blue continues the story of Gwyn and includes all the elements that made Ruby Red such a good read. It leaves the reader with much to ponder on and a desperate need for more.
Side note: There is a German
Ruby Red
movie (the series is originally German), called
Rubinrot
and a recently released
Sapphire Blue
(
Saphirblau
) movie! Watch the trailer for
Sapphire Blue
below.