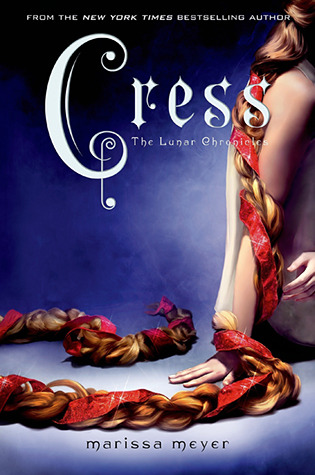 Cress
by
Marissa Meyer
Rating: ★★★★
½
In this third book in the Lunar Chronicles, Cinder and Captain Thorne are fugitives on the run, now with Scarlet and Wolf in tow. Together, they're plotting to overthrow Queen Levana and her army.
Their best hope lies with Cress, a girl imprisoned on a satellite since childhood who's only ever had her netscreens as company. All that screen time has made Cress an excellent hacker. Unfortunately, she's just received orders from Levana to track down Cinder and her handsome accomplice.
When a daring rescue of Cress goes awry, the group is separated. Cress finally has her freedom, but it comes at a high price. Meanwhile, Queen Levana will let nothing prevent her marriage to Emperor Kai. Cress, Scarlet, and Cinder may not have signed up to save the world, but they may be the only hope the world has.
I read
Scarlet
, the second book in
The Lunar Chronicles
, some time last year and was in no rush to continue the series. I liked
Scarlet
but I wasn't as impressed with it as I was with
Cinder
which itself wasn't exactly a blow-my-mind kind of book. The main appeal of this series, for me at least, is the fact that each story is a retelling of a classic fairy tale that most of us are probably familiar with. I loved the idea of reading a retelling of Cinderella which takes place in the future and in which Cinderella is a cyborg. It just seemed so cool and unique and
Cinder
did not disappoint. Maybe by lack of excitement for
Scarlet
has something to do with the fact that Little Red Riding Hood is one of the more boring fairy tales compared to others or maybe it had something to do with there not being as much Cinder and Kai in the second installment. Either way, I waited to read
Cress
which I finally picked up earlier this month and I'm so glad that I did. Adding Rapunzel into the mix meant even less page time for Cinder and Kai (they are definitely my favorite couple in the series) but that didn't real become an issue because the story and the characters were so much better.
Let me back up a little. The new addition in this installment is
Cress
(the
Lunar Chronicles
version of Rapunzel) who is a Lunar and has been essentially imprisoned in a satellite that orbits Earth where she spends her time watching Earthen videos, listening to opera and completely the many tasks Mistress Sybil assigns to her. Cress, by the way, is a hacker and she's been a secret weapon for the Lunars. Cinder plans to rescue Cress which is when everything gets turned upside down, literally and figuratively. The team that was coming together to start this inevitable rebellion against Queen Levana is now scattered and Cress ends up in a desert with
Captain
Thorne.
At this point the story splits up into four different settings and through each of these four perspectives we get to see what is happening with all the different characters in their own separate situations. I liked this split perspective much more than the one in
Scarlet
because none of them were boring. There were points in
Scarlet
where I didn't want to read the Scarlet perspectives because I was much more interested in Cinder but in
Cress
, there was never a dull moment.
Toward the end of the book we are introduced to Princess Winter of Luna I won't go into detail about her but let's just say that I am now every more excited about reading
Winter
than I would have been without that introduction... and I think I would've been pretty excited anyway.
On a bit of a side note, reading this made me realize that maybe I don't know the Rapunzel fairy tale as well as I thought I did. I knew that Cress' "prince" was going to be Thorne and I assumed that Marissa Meyer was doing her take on the Disney version of Rapunzel because Thorne resembles Flynn Rider in many ways (and I always thought the original story involved an actual prince). The beginning of
Cress
is also more reminiscent of
Tangled
than the Rapunzel story I remembered. Then we get to the desert part of the story at which point I really started questioning my knowledge of this fairy tale because the quote from the fairy tale that was included just before that part started referenced a desert. So am I just completely confused about the Rapunzel fairy tale or is it really the retelling of the Disney addition?
The story overall was a roller coaster ride full of action and unexpected twists and turns.
The Lunar Chronicles
is proving to be one of those series that actually gets better as it goes and aren't those the best kind? I can't wait to read
Winter
when it comes out later this year and am looking forward to seeing how Marissa Meyer brings everything to a close. There has got to be a happily ever after, right? It can't really be a fairy tale without the happily ever after. Here's hoping.
Also, shout-out and kudos to
lostie815
on deviantart for making this beauty:
Top: Cinder, Scarlet, Cress
Bottom: Kai, Wolf, Thorne