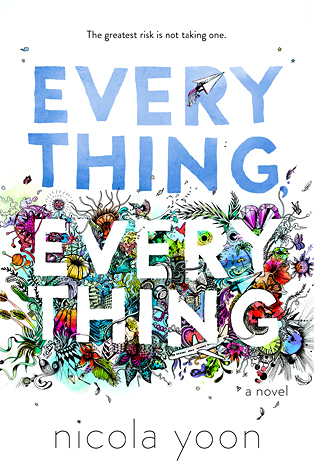 Everything, Everything
by
Nicola Yoon
Rating:
★★
★★
My disease is as rare as it is famous. Basically, I'm allergic to the world. I don't leave my house, have not left my house in seventeen years. The only people I ever see are my mom and my nurse, Carla.
But then one day, a moving truck arrives next door. I look out my window, and I see him. He's tall, lean and wearing all black—black T-shirt, black jeans, black sneakers, and a black knit cap that covers his hair completely. He catches me looking and stares at me. I stare right back. His name is Olly.
Maybe we can't predict the future, but we can predict some things. For example, I am certainly going to fall in love with Olly. It's almost certainly going to be a disaster.
I was able to get an ARC of
Everything, Everything
via Netgalley (I know, shocking isn't it?) and thought I would wait until closer to the release date to read it. For whatever reason I changed my mind and read it two month early and boy am I glad that I did!
Going into it, I was expecting this book to be either terribly boring or really interesting and I'm happy to report that it was most definitely the latter. There was not a single dull moment in this book. Because this is, obviously, a really early review, I won't go into detail about the story. All you really need to know is that
Everything, Everything
is a story about a girl, named Madeline, who is allergic to... everything. Meaning, she can't leave her house because it may very well kill her. A new family moves in next door and there is a romance between Madeline and Olly (her new neighbor). I know what you're thinking. How in the world can there be a romance between these two when one of them can't leave the house or even really interact with other people? Well, it happens. And there are many steps in the development of this romance which starts as an interest and builds from there. It's not insta-love (woohoo!).
I'm going to move on from that topic at risk of spoiling anything.
Everything, Everything
is a pretty highly anticipated book and I think it's totally worth the excitement and the hype. It comes out on September 1st and, to be perfectly honest, I'm glad I read it now because I definitely wouldn't have read it as soon as it came out. This is not a fault of the book, it just so happens to share its release date with my THE most anticipated book of 2015,
Queen of Shadows
. I'm sure that come September (after reading Queen of Shadows) everyone will be reading this book. It really is great and unique. And props to Nicola Yoon for writing a diverse main character (Madeline is half Japanese, half black) and just writing a flawless story. Also, the IMs and journal entries and etc. in this book were a nice throwback to my middle school days when I was totally into books that were told entirely through emails and IMs (
TTYL,
anyone?). Also, also, how gorgeous is that cover!? I mean seriously! I can't wait to see it in person. This is cover lust at it's finest.
I am super thankful to NetGalley, Random House Children's, Delacorte Press and Nicola Yoon for providing me with this ARC. It was such a great read and I'm sure many, many, many more people are going to enjoy it come September.